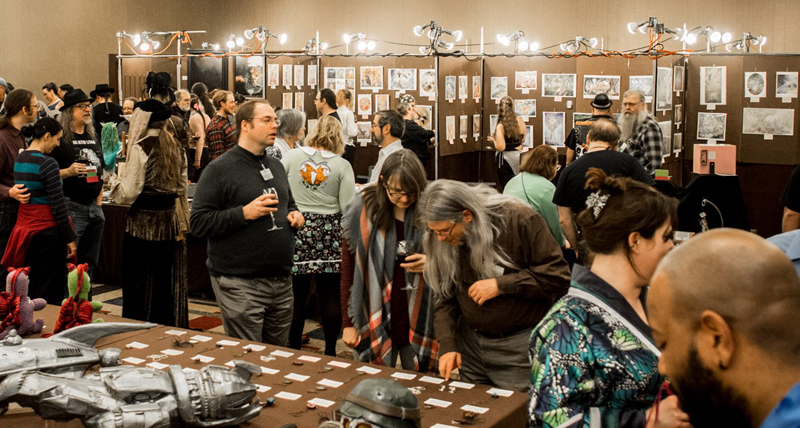 Photo by Cat Trzaskowski
Located in the Harbor II/III ballroom, the Arisia 2023 Art Show featured work by 65 artists including our Artist Guest of Honor Reiko Murakami hung salon style on 500 linear feet of portable wall space and 126 linear feet of table space for 3D works. Subject matter included science fiction, fantasy, space, and other speculative subjects, in a wide variety of media.
At Arisia 2023, we had 1294 for-sale and 13 not-for-sale originals, and 2100 copies of 478 prints, on 120 panels and 22 tables. Of these, we sold 254 originals and 414 copies of 205 prints to 302 different buyers for a total of $24,278.31 plus tax. Out of 65 artists with work for sale, 56 sold work.
The application period for space in the Art Show is over, but we are still accepting waiting list requests.
For those whose applications have been accepted please pay all fees by Friday, November 10th 2023, and your piece information must be entered into the Art Show system by Monday, January 1st 2024 to avoid delays in checking in and hanging your art.
There is a small hanging fee, but no commission is charged on sales. Unlike most other science fiction convention art shows, sales at Arisia are at fixed price only. More information is available on the rules and fees page.
More information about the Art Show, including sales statistics, are available on last year's website.
2023 Art Show Winners
Best in Show:
Mariah Bush
Galen Dara (2D Award)
Sarah Morrison (Directors Award)
Ruth Sanderson (Artshow Staff Award)
Erika Morton (Fan Guest of Honor)
Talia Lefton (Artist Guest of Honor)
Paisley Peacock (3D Award)
Reiko Murakami (Writer Guest of Honor)