Our panels are 4 feet by 4 feet. Save time by determining your layout before arriving at the Art Show. Remember to include space for the sales tags (2" x 3.5")! If you are mailing your art to us, please enclose a diagram or photo of your layout. NOTE: tags will be put up next to work or can be attached to the art pieces but MUST be removable (e.g. not sealed inside a plastic sleeve that houses the art piece).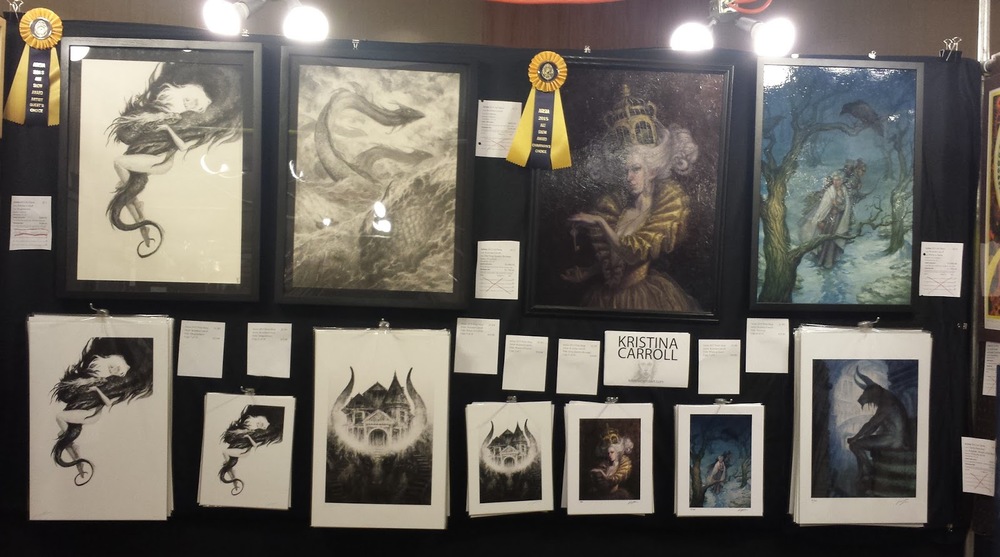 Artworks cannot extend past the top or sides of panels. They may hang below the panel as long as the piece is directly attached to the panel and does not touch the floor.
Every piece — print, flat or 3-D — must be labeled with its title, price, and the artist's name.
All flat art must be bagged, matted, framed or otherwise mounted. Framed works must have a wire for hanging. Sawtoothed hangers do not work with our pegboard and hook system.
We use a system of pegboard hooks and binder clips. Ensure that your work can hang without damage from the clips. We suggest adhesive hang tags for bagged pieces.
Multiple copies of a single image may be entered in the show and hung on your panel(s). We do not have a separate space for displaying or selling prints. Up to 10 copies of any item will be accepted. We will provide long-nose hooks for hanging multiple copies on your panel (see above).

NOTE: It is a good idea to sort your pieces by content so that buyers can see all of the different works you have

You are encouraged to bring business cards or a sign with your name and contact info. We have a limited number of business card holders, so we would recommend bringing your own if you have them.
You may use a background other than the brown pegboard color on your panel using painter's tape, hooks or zip ties. Staples, nails/pins or any other type of tape are not allowed.
Artist Check-in will be 8pm to 11pm Thursday and noon to 5pm Friday of the convention.
Artist Check-out will be 7pm to 9pm, Sunday and 10am to 1pm, Monday. We reserve the right to remove artwork from its display space after the end of Artist Check-out hours on Monday in order to expedite the tear-down process.
Many websites have advice for hanging your work in an art show- use your favorite search engine. Some basic guidelines:

Hang the pieces you want to emphasize between 57"-60" off the floor
Less is more- overfilling your panel makes it harder for viewers to distinguish one work from another.
Groupings of similar themes or color schemes are effective.
NOTE: We need your piece information in our system by the 1st of January because we will be printing out the labels in early January. If you make edits we can reprint but it will delay your check-in and set-up at con. If you are unsure what this means feel free to reach out to us about it.
Feel free to email us if you have any questions about this or anything else. We look forward to seeing your work in the show!